National Cancer Screening Register now accessible via MedicalDirector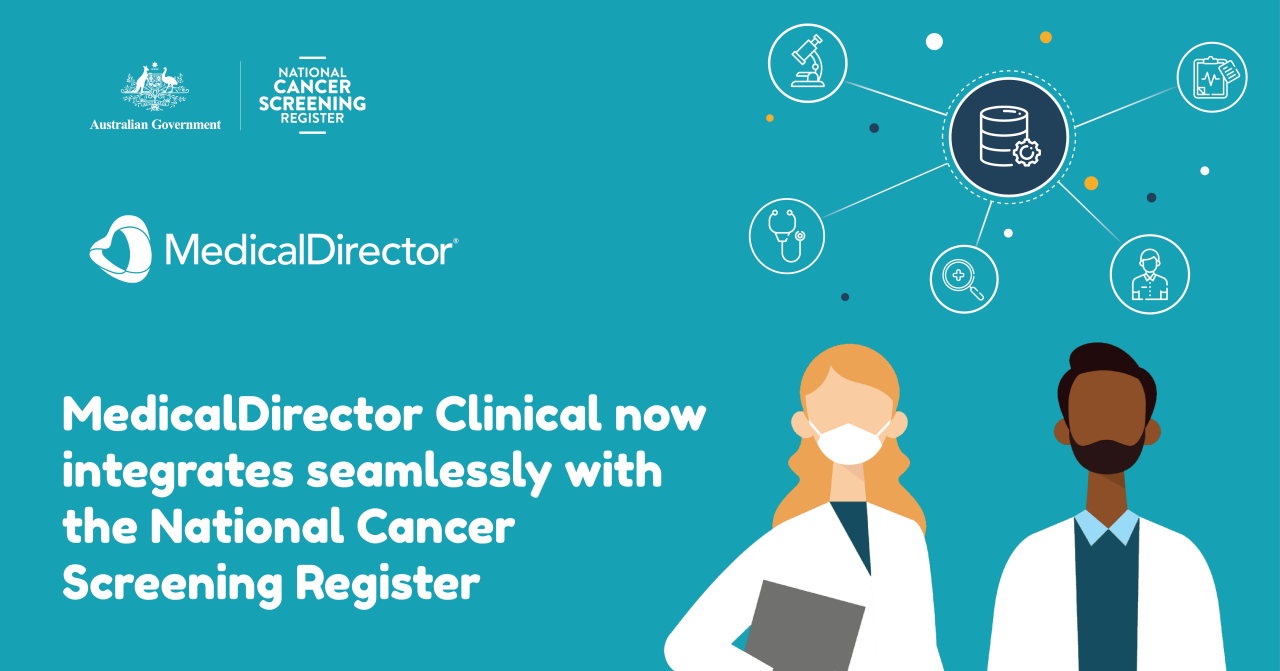 Date published: 1 September 2021
MedicalDirector Clinical users can now seamlessly access and submit patient bowel and cervical screening data
Healthcare providers using MedicalDirector Clinical now have the opportunity to access their patient's bowel and cervical cancer screening data from the National Cancer Screening Register directly through a patient record in their desktop software.

Approximately 23,000 clinicians use MedicalDirector to manage and deliver 80+ million patient consultations per year, across small and large medical practices. The additional functionality will provide access to patient cancer screening information with a seamless interface from within patient records.
"This is a more efficient process for healthcare professionals, allowing them to more easily access the National Cancer Screening Register through the clinical software they use every day" said Professor Dorota Gertig, Medical Director of the NCSR.
MedicalDirector users can now securely access a patient's bowel and cervical screening program information to:
Identify under-screened and never screened patients
Manage a patient's participation in the cervical and bowel screening programs
Request bowel program test kits for eligible participants
Receive notifications of overdue screenings for patient follow up
Create and send digital program forms, reducing manual handling
Practice staff at QLD's Trinity Clinic are one of the first practices to use the new integrated system and have already noticed the benefits.
Nadine, Trinity Clinic's Practice Nurse and Practice Manager said "Our clinicians have saved so much time now that all the patient's cancer screening information is right there in the MedicalDirector system. Removing the need to call the Register and fax program forms means we can invest that time on clinical work.
"We have more time to talk to patients about screening, can quickly and easily pull up their bowel or cervical screening history, and, for example, order a bowel test kit for an overdue patient," Nadine said.
"Patients will benefit because their bowel and cervical screening information will be available directly via their patient record, prompting GPs to have important conversations about participating in these life-saving cancer screening programs."
"We know GPs and healthcare professionals are key to increasing the number of Australians cancer screening. Integrating the National Cancer Screening Register with their software will make it even easier for them to access the information they need to support patients," said Professor Gertig. 
MedicalDirector is the second clinical software provider to integrate with the National Cancer Screening Register, following Best Practice which integrated in January 2021. Together these software providers service the vast majority of primary care practices in Australia.
The National Cancer Screening Register will continue to integrate with more clinical software providers for a better-connected healthcare system. Until the majority of clinical software systems are integrated, NCSR data is also accessible through the Healthcare Provider Portal available via PRODA.
"Our focus is to support the bowel and cervical screening programs to maximise participation and improve health outcomes through early detection of pre-cancerous changes," Professor Gertig said.
"Registers are an essential part of population-based cancer screening programs, inviting, reminding and following up participants for screening, as well as generating comprehensive data that informs future policy," said Professor Gertig.
To enable this functionality, practices using MedicalDirector Clinical 4.0 can find more information at the on the MedicalDirector website.
The National Cancer Screening Register is delivered by Telstra Health on behalf of the Australian Government.
For all media enquiries please call (02) 6289 7400 or email: news@health.gov.au.